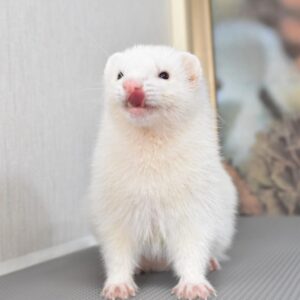 FERRETS
Where to Find Ferrets for Sale Online in 2023 Are you ready to add a furry bundle of joy to your home? If so, ferrets
Read More »
A big "Thanks" to you folks for breeding excellent hedgehogs. We bought from you our Hedgehog (Angie) about 2 1/2 years ago and she was such a great companion, that we returned last year to buy (Rocket). We were a little concerned about how they would get along. Well, they're like best buddies. Our hedgehogs were healthy from the day we got them and now they are beautiful, well-tempered, and just great. They are our kids, since our son is in the Marine Corps and is stationed overseas, they are the two best.
Rich and Shelly
@Hamilton NJ
We purchased Gracie from Compound Exotics website. And are we sure glad we did, she is beautiful and healthy!!. Gracie became an instant member of our family and the laughing hasn't stopped since! This Sugar glider has been delightful, and between my husband, daughter and myself, we all fight for time with Gracie! It's been only 4 weeks, but this Sugar glider has made a huge difference in our lives.
Sincerely, Lauren, Roger and Jasmine
@Kansas
My husband and daughter surprised me with an adorable Ferret named Hunter a few weeks ago. He found Hunter on compoundexotics.com and I'm so happy they did. Hunter has been a joy to have around the house and he is so playful with my 7-year-old daughter. My husband already wants to expand our family and is looking forward to getting another Ferret from you guys!!!
Thank you Compound Exotics. We love our new ferret, Teddy. He's sweet and lovable. The whole process went very smoothly especially flying him to MA. We're very happy.
I bought an otter from your website a little over 2 weeks ago. We are very happy with our otter formerly name Justin. We named him Jonah.
Anyone out there looking for a ferret, you have come to the right place. I'm so very happy with Alissa, I highly recommend compoundexotics.com, they are honest and outstanding breeders. I cannot say enough about them and their wonderful family. Extremely satisfied with my ferret, if my schedule would permit it, I'd go back and get another ferret from Compound Exotics and only Compound Exotics.
This is Chewie I renamed him! We love him! Only 4 days now and spoiled already. I'm so glad I found him. Thanks, compoundexotics.com!
We just picked up our second Hedgehog and are overjoyed once again! Their hedgehogs are healthy, well socialized, and practically train themselves. You can't go wrong with compoundexotics.com. I am sticking with them for all my hedgehogs.
I got my Beautiful glider last February. I can't tell you what a delight she has been to my husband & me... We are actually looking into getting her a friend... Compound Exotics was a delight! I am very pleased with this site! I will be sending over some of her pics... My little Princess.